If you are interested in getting into spraying, then one of the first questions that you will ask is which spray painting machine should I use. There are many different types of sprayers out there. When you start to look, it can quickly become very confusing. 
For example, there are car sprayers, beauty salons that use spray tan machines, building companies that use spray plaster machines, and decorators that use airless sprayers. 
Do professional decorators use sprayers?
To make it easier, we will talk about the type of spray painting machines that decorators use. There are three types of spray painting machines that decorators use. Before we look at these three types, it is worth bearing in mind that just like any tool, you can get a DIY version and a professional version. 
The difference between the 2 is price and durability. Put bluntly, the DIY version of the spray painting machine will be cheap but will not be designed to be used every day on site. The professional version will be very durable and be designed to run day in and day out on site without any problems. It may cost up to 4 times more than the DIY equivalent.
Airless sprayers
The most commonly used sprayer by the professional decorator is the airless sprayer. They are used to spray ceilings and walls and, in some cases, woodwork. They are fast and give an excellent finish. Common brands of airless sprayers are Graco, Qtech and Wagner.
Above – a small airless sprayer.
HVLP (High Volume Low pressure) turbine sprayers
Above – an HVLP turbine sprayer.
Decorators use these small and portable low-pressure spray painting machines to spray smaller items such as doors, windows and stair spindles. They are not as fast as an airless sprayer, but they use smaller quantities of paint and are much more controllable. They are also easy to clean out if they have been used in solvent paint.
The fact that they are small and portable means that they are ideal to go in the back of the decorator's van and handy to carry around and use on a decorating job.
Conventional spray painting machine
This is a compressor and spray gun, much like what a car sprayer would use. They are not used as much by the typical decorator. If the decorator specialises in spraying uPVC windows, they are more than likely to use a compressor and spray gun set up. The advantage of these is that they are cheap to buy, and the hose is flexible to use up a ladder.
What is the best spray painting machien for indoor painting?
We have discussed the types of spray painting machines that a decorator would use, and this is a very similar question. Indoor painting could be either ceilings and walls or woodwork (or both, of course). If you are only painting your ceilings and walls with emulsion, it would be better to use an airless sprayer because it is designed to do.
An airless sprayer is high-speed and takes some getting used to, but once you have mastered it, it is by far the best way to apply emulsion. If you are spraying woodwork and experienced with an airless sprayer, you could use this to spray your woodwork. However, the textbook sprayer for woodwork would be the HVLP turbine sprayer.
The HVLP turbine sprayer is slow and controllable, as mentioned above and would be a good sprayer if you have minimal experience spraying.
What is the best spray gun for paint?
All spray guns are designed to spray paint, but which one is best? This all depends on what paint you are spraying and what size of the surface you are spraying. It also depends on what type of spraying system that you have.
There are also different types of spray guns. This cam makes it confusing to the beginner who is trying to make sense of it all. We will first of all look at the spray guns that work with each type of system. We will look at 4 systems. These are airless, air-assisted airless, HVLP turbine and Conventional (Compressor).
Airless
An airless system pumps paint to the gun. There is no air to atomise the paint. The airless works because the paint passes through a tiny hole at very high pressure, which smashes the paint into a spray. The gun is straightforward but has to withstand very high pressures. Typically, an airless gun is around £200.
Air assisted airless
This is mainly used by large kitchen and joinery manufacturers; it is very similar to airless but has an air cap which helps to atomise the paint and improve the finish. These guns work with an airless pump (to pump the paint) and a compressor (to provide the air). This means that they have 2 hoses running to the gun and are very expensive to buy and are typically £700.
HVLP turbine
This gun is designed to work with a turbine and not a compressor. The turbine runs at fixed pressure and is small and lightweight. Because the pressure is low, then this produces less overspray. The above gun is a "suction feed" gun and draws the paint up from a pot below the gun. More on this is discussed below.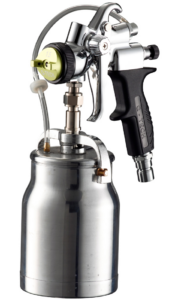 Conventional (compressor) gun
When you talk to people about spraying and spray guns they picture in their minds. It is what a car sprayer would use to spray a car, and they have been around for many years. There are three types of conventional gun, the gravity feed gun (the paint pot is on top), the suction feed gun (the paint pot is below) and the pressure feed gun (the paint pot is separate.
Above – a gravity feed conventional gun.
Pressure feed conventional gun
One of the problems with a spray gun that has the paint pot attached is that it can be heavy when full of paint. Also, they cannot be used upside down. The solution to this is the pressure feed gun. This has a separate pot with the paint in. This pot has the air hose from the compressor attached to it.
Two hoses then run from the pressure pot to the spray gun. One carries the paint, and one carries the air (the hose attached to the handle). This means that the gun is light and easy to use, and it can also be turned upside down and used in confined spaces.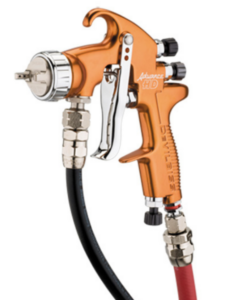 Above – the pressure feed gun.
All of our courses have a City and Guilds badge on them so that your certificate has value.